FUTURE FORESTRY GAME
(working title)








I am working on a new game about forestry in the future.

The project started as a portrait of the woods around my hometown in Grass Valley and Nevada City, California, which I moved back to during the COVID-19 pandemic.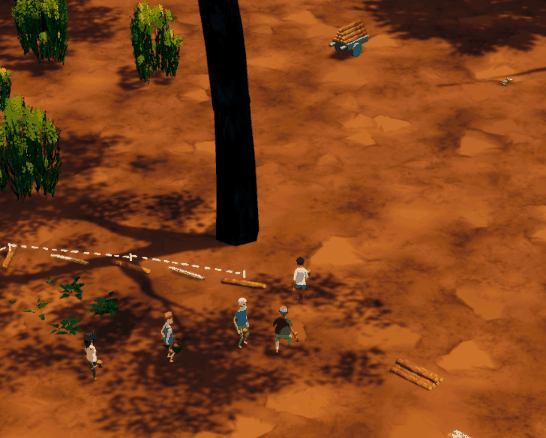 Players take on the role of a new recruit working at a rewilding camp in the mountains, and must make decisions about how best to tend to the woods. The player and their crew will work together to manage and restore the forest; planting trees, building trails and clearing firebreaks, trapping and foraging food, tearing up pavement, and more.

The game is a roleplaying game that celebrates the personal and social experience of being in nature together. Like other roleplaying games, characters can build relationships and learn new skills, but in this game, the best way for characters to level up is to work alongside each other.

Players can accomplish many tasks on their own, but it's usually easier, faster, and more fun to work together with the other characters.

There are many other ways to build relationships between characters, like bathing together at the river, hiking, and more.
I'm especially interested in allowing the player to build accessible paths with handrails, stairs, and ramps for characters with limited mobility. Building features like these makes it easier for the player to traverse the landscape, but also unlocks the ability to bring less mobile or elderly characters to deeper parts of the woods and have special dialogue events.
This line of thinking is especially inspired by the
Independence Trail
, outside of Nevada City, which was destroyed last year in the Jones Bar fire. The trail was the nation's first wheelchair accessible wilderness trail.
My goal is to present nature as a living system that human beings are a part of, rather than as a static background for adventure and battle.

This early test shows a stand of cedar trees growing over many in-game years. Simple game rules govern how and where the trees grow based on shade from nearby tall trees and rainfall.



The plants, animals, and environments that appear in the game are modeled after their real-life counterparts in the Sierra Nevada, including native plants like the California Incense Cedar and Ponderosa Pine, and invasives like the Himalayan Blackberry.
In my last project
I relied heavily on photogrammetry to capture 3D models of objects I sculpted out of clay and tin foil. I like this process because it lets me work with my hands and is a simple way to make expressive graphics.
This project has different demands, but I have been continuing to work with physical media to make most of the game's graphics. To make tree bark I sculpt small tiles of bark out of clay, and then use 3D capture to generate normal maps and occlusion maps. Other details like leaves are painted on paper and scanned.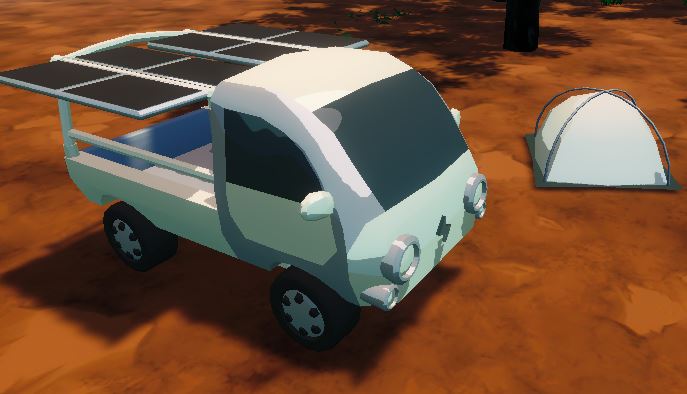 The game is set in the near future, after drought, floods, and wildfires exacerbated by climate change have radically altered the landscape. In the fiction of the game, a green new deal has been enacted including a jobs guarantee and a massive rewilding effort to restore the ecosystem and sequester carbon.

Tonally I imagine it as something like Richard Scarry's Busytown for the green socialist future. As agitprop, it leans on some pretty simple strategies. For instance, I am trying my best to design green tech that is cute and appealing, like this electric utility truck with built-in solar panels. The truck serves as a home base when the player travels to different areas to do work in the field, and can be used to recharge tools and to "fast travel" to different locations.



The game is set in the Sierra Nevada, which were irrevocably damaged by a century of gold mining, beginning in 1849. To the left are images from Malakoff Diggins, a hydraulic mining site north of town. Miners used hydraulic cannons to wash away mountains, picked gold nuggets out of the muck, and left behind a radically altered landscape.
Although sites like this will never be the same as before, plants and animals have come back. Malakoff Diggins is now a marsh populated by cattails, willows, amphibians, fish, bears, coyotes, and more.
This setting reflects the larger themes I'm interested in; the relationship between labor, nature, and society, but also something about insisting on making a good life for the future in spite of hardship and loss.
Older characters that appear in the game will have grown up in the 2030s and 2040s, and will have lived through fires, floods, desertification, displacement, and more. I think of the game as
anti-anti-utopian.
I'm excited to have characters reflect on what was done to the world in the past, and what is still possible in the future.
THE PLAN


Many of the game mechanics I'm planning, especially around forest management, controlled burns, foraging, and trapping, are in part drawn from the land management practices of the Nisenan tribe of the Nevada City Rancheria (as described in tribal chairman Richard Johnson's book, History of Us). I'm wary about appropriating indigenous iconography and culture, but in light of their erasure, it seems important to represent the tribe and their history somehow in the game. It's very early but I am hoping to involve members of the tribe in the game's production somehow.

I've been working on the game on my own for the last few months, in between teaching and freelance software jobs. By the end of the year, I'm hoping to get a proper demo and a trailer together. Around that time, I will launch a crowdfunding campaign. Depending on the success of the initial crowdfunding campaign, I hope to hire others on to help, and possibly work full time on the game. Once a more complete demo of game is together, I'm hoping I can also attract a publisher to help fund the game.