FUTURE FORESTRY GAME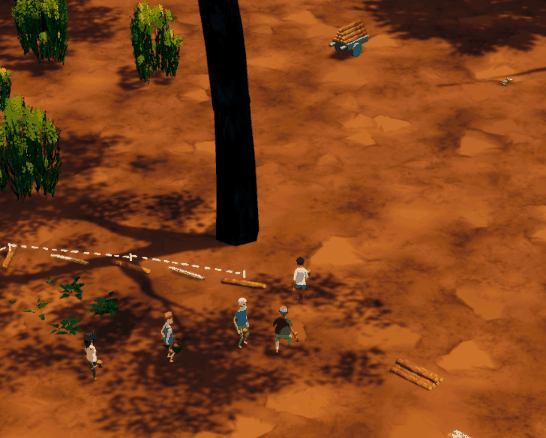 I am working on a new game about forestry in the future. The project started as a portrait of the woods around my hometown in Grass Valley and Nevada City, California, which I moved back to during the COVID-19 pandemic.

The game is set in the near future, after drought, floods, and wildfires exacerbated by climate change have radically altered the landscape.

Players take on the role of a new recruit working at a rewilding camp in the mountains, and must make decisions about how best to tend to the woods. The player and their crew will work together to manage and restore the forest; planting trees, building trails, clearing firebreaks, tearing up pavement, and more.

It's a roleplaying game that celebrates the personal and social experience of being in nature together. Players can accomplish many tasks on their own, but it's usually easier, faster, and more fun to work together with the other characters. Besides construction tasks, there are many other ways to build relationships between characters, like bathing together at the river, hiking, and more.

This early test shows a stand of cedar trees growing over many in-game years. Simple rules govern how and where the trees grow based on shade from nearby tall trees, changing weather, ground cover, and rainfall.



The plants, animals, and environments that appear in the game are modeled after their real-life counterparts in the Sierra Nevada, including native plants like the California Incense Cedar and Ponderosa Pine, and invasives like the Himalayan Blackberry.
In my last project
I relied heavily on photogrammetry to capture 3D models of objects I sculpted out of clay and tin foil. This project has different demands, but I have been continuing to work with physical media to make most of the game's graphics. To make tree bark I sculpt small tiles out of clay, and then use 3D capture to generate normal maps and occlusion maps. Other details like leaves are painted on paper and scanned.